Local Friends might be interested in the offerings of the Ben Lomond Quaker Center in California!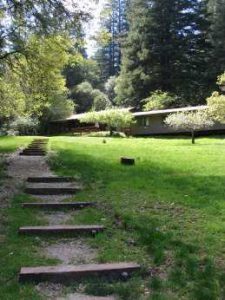 Coming up this summer:
Ben Lomond Quaker Center is offering a $50 discount to both campers who register as friends (or siblings) for Quaker and Service Camp from Saturday, June 24th- Saturday, July 1st.
We welcome all kids, Quaker or otherwise, to join us for Quaker Camp and Service Camp. Join us to explore some of the values that Quakers hold close to heart: community, peace, equality, integrity, simplicity, and earthcare, through creative projects and activities.
• Quaker Camp: Stay at Quaker Center for a week of fun and personal growth, for kids entering the 4th, 5th, or 6th grade, will be held in the Redwood Lodge at Quaker Center. Activities include: fun community building exercises, games, swimming, hiking around Quaker Center, campfires, music, story-telling, community service, trips to local beaches and parks, with experiential learning of Quaker practices. Most of all, come make new friends and have a great time with the camp staff! Cost: Sliding Scale, $420 – $560 ($490 standard rate, including a $100 advance deposit)
• Service Camp: A full week of fun, friendship and service, for teens entering 7th, 8th, or 9th grade, will be held in the Orchard Lodge at Quaker Center. Service Camp is about helping others and doing good work while having a good time. We will help organizations that serve the homeless, work with elders, support recycling, protect and clean up the environment, in addition to caring for Quaker Center. We will also hike on local trails including some at Quaker Center and we'll take trips to the beach and a local pool. Come spend time with old friends, make new friends, and hang out with cool counselors too. Cost: Sliding Scale, $420 – $560 ($490 standard rate, including a $100 advance deposit)
For more information please call 831-336-8333 to speak with Kathy Runyan, Camp Director, or visit
http://www.quakercenter.org/programs/summer-youth-camps/ where you can register online.
Discover the best family vacation around. Family Work Camp from August 1st – 6th and only $50/person covers all for 5 days. Individuals and families of all ages are welcome! Co-facilitated by Quaker Center staff, we'll work on improvements to Quaker Center facilities while building community among us. Work crews gather in the morning after breakfast and work until lunch. After lunch we offer opportunities to play, hike, swim, and cook together, or for time alone to enjoy the redwoods. Some work campers choose to keep working. Learn more about this wonderful intergenerational camp and register online at http://www.quakercenter.org/family-work-camp/.
Join Vanessa Julye from September 1-3, 2017 to explore Colonialism, Racism and White Supremacy. Have you ever wondered what white supremacy and colonization are? Have you wondered how they affect our lives both individually and institutionally? Over the weekend we will spend time examining colonization, racism and white supremacy. Register early at http://www.quakercenter.org/…/colonialism-racism-and-white…/.
Lloyd Lee Wilson will facilitate, In for the Long Haul: Inspiration, Strength, and Perseverance for the Spiritual Life Today, from September 29 – October 1, 2017.will use the underlying metaphor of a school for apprentices: a community of individuals gathered together to learn how to live in harmony with God and each other through a long-time dedication to their craft, learning from each other, from seasoned journeymen and journeywomen, and of course from the Master Teacher of us all. Find out more and register online at
http://www.quakercenter.org/…/in-for-the-long-haul-inspira…/.